Get Support
If you need immediate assistance, please email us at support@retronyms.com. Otherwise we encourage you to get involved on Facebook and post on our wall, participate in user discussions, or message us! It's a great way to give us feedback, suggest new devices, and more.
<! FB PLUG-IN > <! END FB CODE >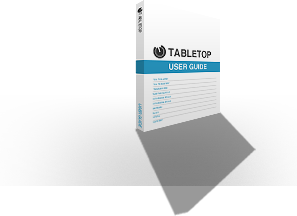 User Guide
It's in the app too, but check it out here.
FAQ
How do I export a song?
Tabletop 1.5 and later allows for easy session export. Just tap the Session button in the top left corner, and tap Render to Wav to create a .wav mixdown of the session in Tabletop's iTunes File Sharing Documents.
Through the same menu there's now the additional options of Sharing the song on SoundCloud and exporting the song via AudioCopy.
MORE DETAILS IN THE USER GUIDE
---
How do I import my own sounds?
Currently, the Gridlok lets you import your own samples (.wav supported). Connect your iPad to your desktop computer, and copy your files to Tabletop using iTunes File Sharing.
Once copied to Tabletop, select the pad you wish to add a sample to, and tap "load." You'll find all your samples in "My Sounds."
MORE DETAILS IN THE USER GUIDE
---
How do I use .mid files?
A .mid file combined with a series of .wav's can allow you to create tempo-adjustable phrases that the Gridlok can trigger. Software such as ReCycle can create these files from drum loops, grooves, and other samples. Transfer your .mid file along with the .wavs to Tabletop using iTunes File Sharing.
You'll find the .mid file in "My Sounds" with all your other custom samples.