Phase84 Media Resources
Press Release
Oct 13, 2015
FOR IMMEDIATE RELEASE
Retronyms Brings Phase84 Synthesizer to Android
On Thursday Retronyms announced the release of Phase84 on Samsung Galaxy Apps. Retronyms describes Phase84 as a "next generation phase distortion synthesizer that fuses gritty digital sounds with traditional analog punch".
"Phase84 is designed to have the warmth of an analog synthesizer, yet be capable of the squelchy tones and sharp attacks of an FM synth. It works through the magic of Phase Distortion — utilizing a form of waveshaping synthesis introduced in 80's era digital synthesizers. Phase84 can create warm pads, glitchy sounds, dirty basses, filthy sweeps, screaming leads, and anything in-between."
— Louis Gorenfeld, Retronyms
Phase84 includes over 110 presets including basses, leads, pads, bell tones, sweeps, atmospheric sounds, pseudo-realistic tones, and more. Users can tweak the synth using a combination of advanced envelope, LFO, Delay, Filter, and Oscillator settings. Phase84 includes features for expressive performance, a groove editor, and an advanced multi-octave keyboard.
Phase84 will be available exclusively from Samsung Galaxy Apps for $4.99. According to Retronyms, it takes advantage of Samsung's Professional Audio SDK (SAPA) to deliver low latency performance. Samsung Galaxy devices including Galaxy S5, S6, S6 Edge, Galaxy Note 4, Galaxy Tab 5, and Galaxy Tab S2 support Samsung's Pro Audio tech making this the first version of Phase84 to run on phones as well as tablets.
Phase84 also integrates with SoundCamp, a free mobile DAW by Samsung. Users can seamlessly load the synth into a track in SoundCamp, then record and edit notes on a piano roll sequencer. Combining Phase84 with other tracks, virtual instruments, and recorded audio, allows users to create full compositions and finished songs.
Phase84 features include:
Advanced Keyboard section controls portamento, polyphony, pitchbend, mod wheel mapping, octave & more.
Expressive Perform Mode with Groove Gate and two axis controllers.
Naturalistic unison for super thick pads and sweeps.
Oscillator Section: 9 Params, 2 General-Purpose Oscillators, 1 Formant Oscillator.
Mix Section: 8 Params including Delay Amount and Pulse Width.
Envelope Section: Amplitude & Shaper Envelopes. Fully visualized & interactive ADSR plus special Fade Param.
Delay/Filter Section: Stereo delay with loss modeling and a punchy overdriven analog-style filter.
3 LFOs: 4 waveforms, optional delay and repeat count, and can go into the audible frequency range.
Samsung Professional Audio technology.
SoundCamp Support.
Phase84 on Samsung Galaxy Apps:
http://www.samsungapps.com/appquery/appDetail.as?appId=com.retronyms.phase84x
Phase84 for Android Presskit:
http://retronyms.com/presskit-phase84/
About Retronyms
Retronyms is a software studio focused on enabling creative expression. It strives to make fun and powerful products that allow people to create, collaborate, and engage through digital media. Retronyms is interested in how next-generation devices and technology can be used to explore these ideas. Retronyms is behind top selling music apps on iOS like iMPC, Tabletop, AudioCopy, and iMini.
More Product Images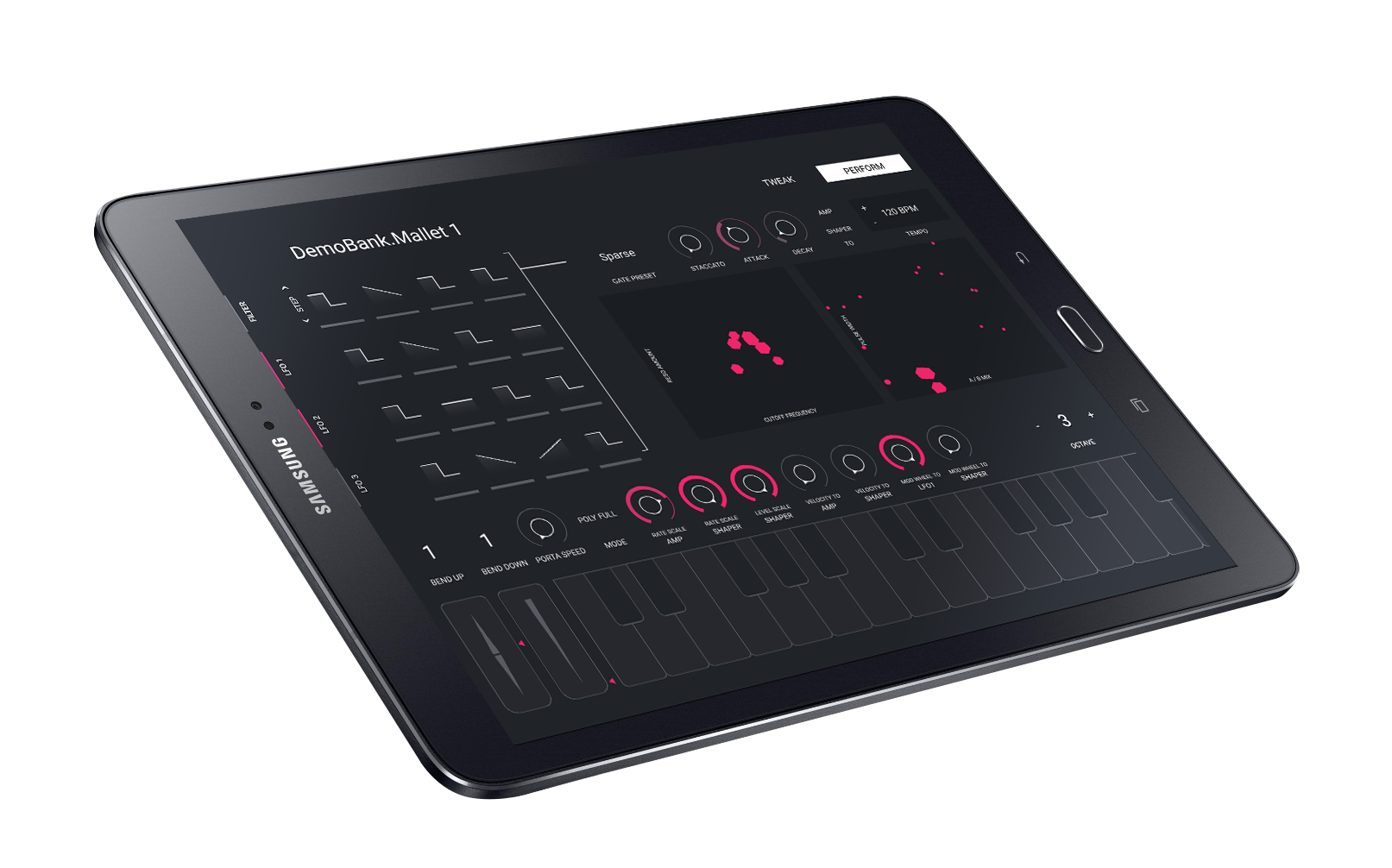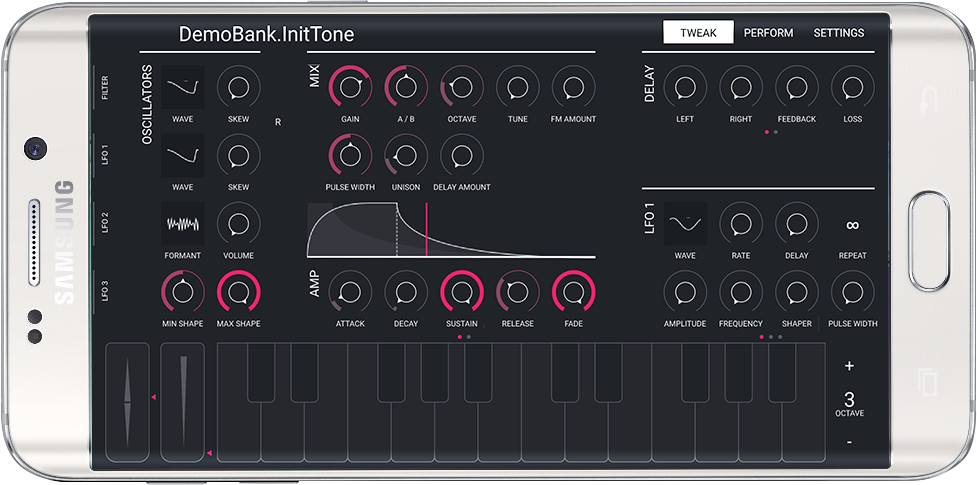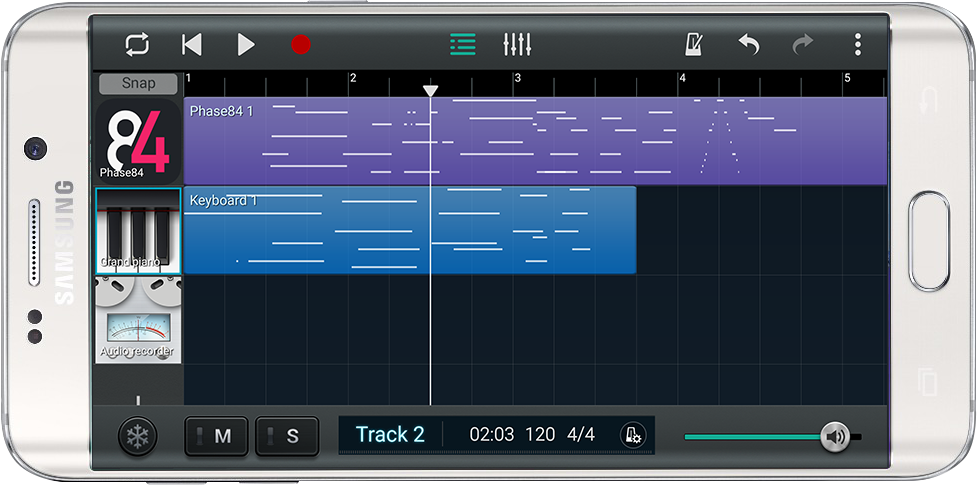 Phase84 Video (iOS release)
Retronyms logos