Affiliate Program: earn 10%1
Earn an affiliate credit when Sound Packs are pasted to your app for the first time. You can earn a 10% commission on Pack Sales simply by including your Affiliate Token in your app. Your app only has to include the basic AudioPaste utility features in order to start collecting. AudioCopy SDK itself doesn't promote or advertise the Content Store, and your app doesn't have to either.
If you've integrated AudioCopy SDK and included your Affiliate Token, you're already earning credits. View your credits.
Partner Program: earn 35%2
Become a partner app to earn an additional 25% on Sound Packs pasted to your app for the first time. More than an affiliate program, we intend this to be a content monetization channel for your app. You don't have to produce content, manage royalties, or even develop your own store technology.
Earn a fair share: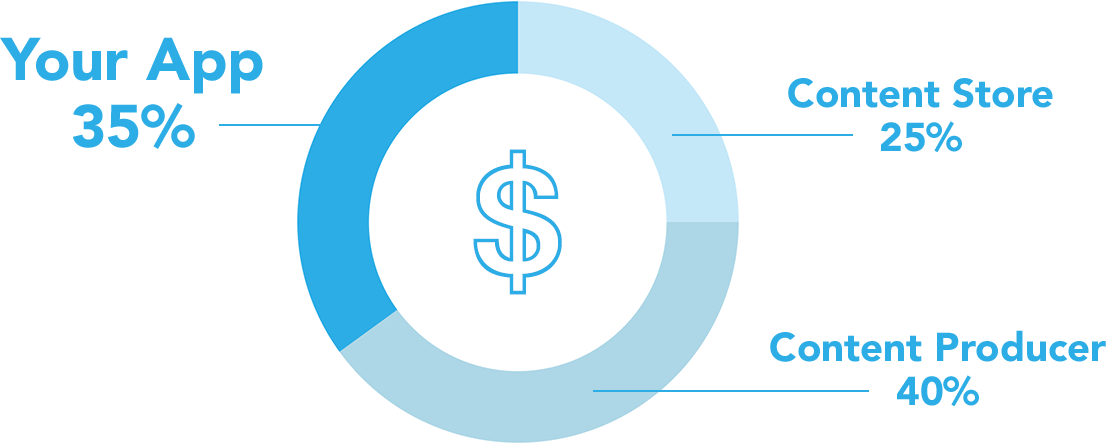 Enrolling in the Partner Program is simple:
Your app must include AudioPaste SDK.
Your app must include your Affiliate Token.
Your app must link to the AudioCopy Content Store.
You can link to the Content Store wherever you think makes sense in your app. Want to see an example? Get Hook for iPhone and AudioCopy (both are free). You can see the various ways we link to the AudioCopy store and try it out with a free Sound Pack
Contact us at partners[at]retronyms.com to enroll in the AudioCopy Partner Program and get a Partner App Agreement in place.